---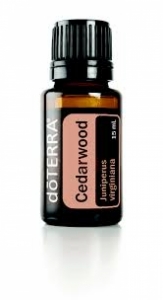 Part of the plant: wood
Method of production: Steam distillation
Description of the smell: herbal, woody
PRIMARY EFFECTS
- Natural repellent.
- Blessing on our emotions.
- Promotes healthy skin appearance.
PRODUCT DESCRIPTION
Cedarwood essential oil is known for its rich, warm, woody scent and has many good properties.Cedarwood is indigenous in cold climates, which grows at high altitudes and grows up to 30 meters (100 feet) in height. Depending on its size and power, its aroma arouses feelings of well-being and vitality. In addition, Cedarwood essential oil is often used in massage therapy to relax and calm the mind and body.
USE
- After a hard day, add the Cedarwood into the diffuser to create a relaxing environment.
- During facial care, add a drop or two in the moisturizer, as this will further clean the skin and ensure a healthy appearance of the skin.
- Drop a drop or two onto a cotton ball and place it in the closet, thus disposing of annoying mothers.
INSTRUCTIONS FOR USE
Aromatic: Add 3-4 drops of essential oil to your chosen diffuser
Apply to the skin: dilute 1-2 drops with DOTERRA fractionated coconut oil and apply to the desired area
Warnings:
Possible skin sensitivity. Keep out of the reach of children. If you are pregnant, breastfeeding or if you are under the care of a doctor, contact your doctor. Avoid contact with the eyes, inside the ear and sensitive areas.
Cedarwood
Juniperus virginiana 15 ml
Regular price: 19,52 €
Member's price: 14,64 €
Footnote:
Essential oils are not medicines, and as a user, I can only advise on the basis of my experience and the experience of others who got help with any problems with essential oils. I do not make any diagnosis or prescribe any medication.
I am not responsible for the possible consequences of improper use.
The rule is: Less is more!