---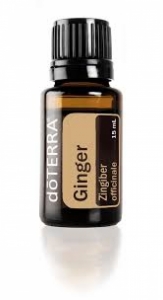 Part of the plant: Root
Method of production: Steam Distillation
Description of the smell: hot, spicy
PRIMARY EFFECTS
- supports a healthy digestive system
- it reduces digestive problems
- Reduces occasional disadvantages
PRODUCT DESCRIPTION
The essential oil of ginger is obtained as part of the doTERRA Co-Impact sourcing in Madagascar. As a spice, it is found in Asian dishes and has a hot and herbal odour. While in western culture it is mainly found in sweets; Gingerbread.
The ginger works perfectly to relieve the occasional digestive problems and disadvantages, but since it has a soothing aroma, it can also be used in the diffuser.

USE
- During a long trip, spray it in an auto-diffuser or drop a drop to your palm and breathe.
- Apply a soothing massage to the lower abdomen.
- Use ginger essential oil in your favourite sweet and savoury dishes.
INSTRUCTIONS FOR USE
Aromatic: Pour 3-4 drops into your chosen diffuser and disperse into the room
Oral: Add 1 drop in a glass of water
Apply to the skin: dilute 1-2 drops with DOTERRA fractionated coconut oil and apply to the desired area
Warnings:
Possible skin sensitivity. Keep out of the reach of children. If you are pregnant, breastfeeding or if you are under the care of a doctor, contact your doctor. Avoid contact with the eyes, inside the ear and sensitive areas.
Ginger
Zingiber officinale 15 ml
Regular price: 61,82 €
Member's price: 46,36 €
Footnote:
Essential oils are not medicines, and as a user, I can only advise on the basis of my experience and the experience of others who got help with any problems with essential oils. I do not make any diagnosis or prescribe any medication.
I am not responsible for the possible consequences of improper use.
The rule is: Less is more!