---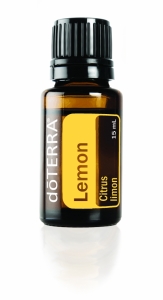 Part of the plant: Lemon rinds (peel)
Method of production: Cold Pressed/Expression
Description of the smell: clean, fresh, citrus, bright
PRIMARY EFFECTS
- cleanse the air and clean the work surfaces,
- cleanse the body and help digestion,
- supports healthy respiratory functions,
- Promotes positive mood.
PRODUCT DESCRIPTION
Lemon Essential oil is the best-selling essential oil from doTERRA, as it has many uses. It is praised with a very powerful cleaning function, which is why it can be used as a natural detergent throughout the home, cleaning both air and other surfaces. It is also often used in culinary delights to enhance the taste of main dishes and also desserts. The essential oil of lemon positively affects our digestion and takes care of the healthy airway, but when used in a diffuser or smelling it directly from the bottle, a wonderful smell fills us with energy and raises the mood.
USE
- In the capsule for seasonal allergy *,
- For cleaning, add it with water to the sprayer and clean the table, work desks and other things. You can also use it to polish your furniture; add a few drops of olive oil to clean, protect the gloss of your furniture,
- With essential oils of lemon, you can also protect your leather seat and clothing,
- Use it to clean your jewellery,
- Add it to the diffuser to provide a creative and charming work environment.
INSTRUCTIONS FOR USE
Aromatic: Add 3-4 drops of lemon essential oil in your chosen diffuser
Internally: Put 1 drop of essential oil in the capsule and pour with water
Apply to the skin: Apply 1-2 drops to the desired location and dilute with DoTERRE fractional coconut oil to reduce the sensitivity of the skin.
Warnings:
Possible skin sensitivity. Keep out of the reach of children. If you are pregnant, breastfeeding or if you are under the care of a doctor, contact your doctor. Avoid contact with the eyes, inside the ear and sensitive areas.
Lemon
Citrus limon 15 ml
Regular price: 15,46 €
Member's price: 11,59 €
Footnote:
Essential oils are not medicines, and as a user, I can only advise on the basis of my experience and the experience of others who got help with any problems with essential oils. I do not make any diagnosis or prescribe any medication.
I am not responsible for the possible consequences of improper use.
The rule is: Less is more!