---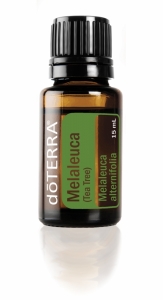 Part of the plant: Leaf
Method of production: Steam distillation
Description of the smell: herbal
PRIMARY EFFECTS
- Cleans and rejuvenates the skin,
- Promotes healthy functioning of the immune system *,
- Protects against environmental and seasonal effects *.

PRODUCT DESCRIPTION
Melaleuca, also known as Tea Tree Aborigines, has been used in Australia for centuries. The crushed leaves were used for inhalation, the very leaves were put on the skin for cooling effect. The tea tree is best known for its cleansing properties. It is used to clean the skin and nails, also providing a healthy skin complexion. It promotes the healthy functioning of the immune system *. It works antibacterial, antiviral and antiseptic, so it can be used for cleaning at home. In case of occasional skin irritation it helps to soothe, and in the diffuser, it cleanses and refreshes the air.
USE
With occasional skin irritation, 1-2 drops of essential oil in the affected area are used,
add 1-2 drops in a glass of water, a citrus drink or capsule for the healthy functioning of the immune system,
Add facial tonics to 1-2 drops for increased cleansing effect,
nail polish or bathing for a healthy nail look,
a few drops are added to the water and used to clean the work surfaces (it works antibacterial).
INSTRUCTIONS FOR USE
Aromatic: Add 3-4 drops of essential oil to your chosen diffuser,
Oral: Put 1 drop of essential oil in the capsule and drink with water *,
Apply to the skin: Apply 1-2 drops to the desired location and dilute with fractionated coconut oil doTERRA to reduce the sensitivity of the skin.
Warnings:
Possible skin sensitivity. Keep out of the reach of children. If you are pregnant, breastfeeding or if you are under the care of a doctor, contact your doctor. Avoid contact with the eyes, inside the ear and sensitive areas.
Melaleuca
Melaleuca alternifolia 15 ml
Regular price: 26,02 €
Member's price: 19,52 €
Footnote:
Essential oils are not medicines, and as a user, I can only advise on the basis of my experience and the experience of others who got help with any problems with essential oils. I do not make any diagnosis or prescribe any medication.
I am not responsible for the possible consequences of improper use.
The rule is: Less is more!