---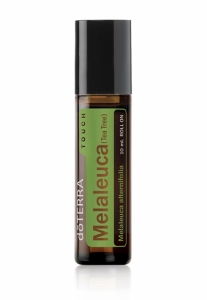 Part of the plant: Leaf
Method of production: Steam distillation
Description of the smell: herbal
Ingridients: Melaleuca essential oil and Fractionated coconut oil
PRIMARY EFFECTS
- Cleans skin and nails.
- Provides a healthy skin complexion.
- Calms occasionally irritated skin.
PRODUCT DESCRIPTION
Feel the refreshing effects of doTERRA Melaleuca Touch also called Melaleuca Roll on in a handy bottle with a lightweight skin coating that is already diluted in fractional coconut oil in an optimal proportion and ready for direct application to the skin.
Melaleuca Touch can be used to clean skin and nails and promote a healthy skin. It is ideal for calming the occasionally irritated skin, aftershave and feet for cooling effect.
USE
- Apply it to skin irregularities to cleanse the skin and rejuvenate it.
- Use it for occasional irritation of the skin and rub it on the affected site.
- Apply it after shaving to soothe the skin.
- After showering, rub it in your nails, on your hands and feet for healthy nails.
- Apply it to the inside of the shoe for a fresh scent in shoes, and give yourself a fresh scent of your feet.
INSTRUCTIONS FOR USE
Apply to the skin: Apply it to the desired area.
Warnings:
Possible skin sensitivity. Keep out of the reach of children. If you are pregnant, breastfeeding or if you are under the care of a doctor, contact your doctor. Avoid contact with the eyes, inside the ear and sensitive areas.
Melaleuca touch
Melaleuca alternifolia 10 ml
Regular price: 19,52 €
Member's price: 14,64 €
Footnote:
Essential oils are not medicines, and as a user, I can only advise on the basis of my experience and the experience of others who got help with any problems with essential oils. I do not make any diagnosis or prescribe any medication.
I am not responsible for the possible consequences of improper use.
The rule is: Less is more!