---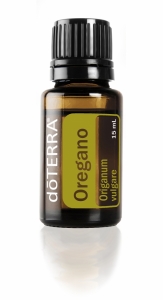 Part of the plant: Leaf
Method of production: Steam Distillation
Description of the smell: herbaceous, sharp, green, camphoraceous
PRIMARY EFFECTS
- It is used as a strong cleansing agent,
- It promotes the healthy functioning of the immune system *,
- It promotes healthy digestion and respiratory function *,
- Strong antioxidant.

PRODUCT DESCRIPTION
Oregano is one of the most powerful essential oils used in traditional health practices * for centuries. The high content of phenols in it helps to inhibit the growth of microorganisms that are the cause of various diseases. Because of their high content, caution should be exercised when inhaled and evaporated in a diffuser (only 1 to 2 drops of oil are used). Also, when applied to the skin, it is diluted with doTERRA Fractioned Coconut Oil. One drop per day helps maintain the healthy functioning of the immune system. It is more commonly used in times of seasonal illness. In addition to being a very popular spice, it also helps to regulate digestion.USE
HOW TO USE
One drop helps to strengthen the immune system *,
Add 1-2 drops in the capsule to support the healthy respiratory function *,
One drop may be added to the dried oregano in the preparation of sauce for pasta and pizza,
Add 10 drops in 480 ml of water. Use spray to clean the work surfaces.

INSTRUCTIONS FOR USE
Aromatic: Add 3-4 drops of essential oil to your chosen diffuser
Oral: Put 1 drop of essential oil in the capsule and pour with water *
Apply to the skin: Apply 1-2 drops to the desired location and dilute with DoTERRE fractional coconut oil to reduce the sensitivity of the skin.

Warnings:
Possible skin sensitivity. Keep out of the reach of children. If you are pregnant, breastfeeding or if you are under the care of a doctor, contact your doctor. Avoid contact with the eyes, inside the ear and sensitive areas.

Oregano
Origanum vulgare 15 ml
Regular price: 36,60 €
Member's price: 27,45 €
Footnote:
Essential oils are not medicines, and as a user, I can only advise on the basis of my experience and the experience of others who got help with any problems with essential oils. I do not make any diagnosis or prescribe any medication.
I am not responsible for the possible consequences of improper use.
The rule is: Less is more!