---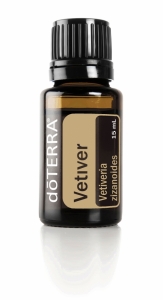 Part of the plant: Root
Method of production: Hydro Diffusion
Description of the smell: sweet, woody, caramel, smoky
PRIMARY EFFECTS
A calming, grounding effect on the emotions,
Supports the healthy functioning of the immune system *
PRODUCT DESCRIPTION
Vetiver, which belongs to the grass, is cultivated for various reasons. Unlike other grasses, the roots of the vetiver grow, so the plant is ideal for preventing erosion and ensuring soil stabilization.
Vetiver has a rich, exotic and complex aroma, which is often used in perfumes.
Due to the vetiver's soothing effect and because the ground floor is an ideal massage oil.
Before going to sleep, it can be applied to the feet for a quiet sleep. If ingested, it supports the healthy functioning of the immune system. *
USE
For the healthy functioning of the immune system during the winter, add 1-2 drops to tea or hot drink, *
We use it as a massage oil to calm the emotions,
Together with essential oils of lavender, doTERRA Serenity oil or doTERRA Balance oil, it is used in a diffuser to calm and reduce stress,
If the vetiver is too viscous to run from the bottle itself, use a toothpick to get the desired amount of oil from the bottle.
INSTRUCTIONS FOR USE
Aromatic: Add 3-4 drops of essential oil to your chosen diffuser
Oral: Add 1 drop in a glass of water
Apply to the skin: dilute 1-2 drops with DOTERRA fractionated coconut oil and apply to the desired area
Warnings:
Possible skin sensitivity. Keep out of the reach of children. If you are pregnant, breastfeeding or if you are under the care of a doctor, contact your doctor. Avoid contact with the eyes, inside the ear and sensitive areas.
Vetiver
Vetiveria zizanioides 15 ml
Regular price: 61,00 €
Member's price: 45,75 €
Footnote:
Essential oils are not medicines, and as a user, I can only advise on the basis of my experience and the experience of others who got help with any problems with essential oils. I do not make any diagnosis or prescribe any medication.
I am not responsible for the possible consequences of improper use.
The rule is: Less is more!