---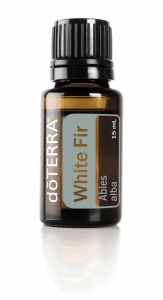 Part of the plant: needles
Method of production: Steam distillation
Description of the smell: clean, fresh, woody
PRIMARY EFFECTS
- It arouses a sense of stability,
- It works calmly.
PRODUCT DESCRIPTION
White fir is widely used in construction because of a combination of its power, versatility and beauty. They are also often chosen for the Christmas tree. American Indians used white fir as building materials and medicines. Acquired of gentle needles, the essential oil of white fir is best recognized for the excitement of a sense of comfort.
The essential oil of white fir with aromatic use gives rise to feelings of stability, energy and strength. It can stimulate the senses and help your body relax.
USE
- After a strenuous exercise, the essential oil is massaged onto the skin for a relaxing feeling,
- Use in a diffuser for an invigorating effect,
- When faced with difficult circumstances at home or at work, we use a diffuser to reduce stress,
- A few drops are put on a glinty pendant for an invigorating holiday scent.
INSTRUCTIONS FOR USE
Aromatic: Add 3-4 drops of essential oil to your chosen diffuser.
Apply to the skin: dilute 1-2 drops with DOTERRA fractionated coconut oil and apply to the desired area
Warnings:
Possible skin sensitivity. Keep out of the reach of children. If you are pregnant, breastfeeding or if you are under the care of a doctor, contact your doctor. Avoid contact with the eyes, inside the ear and sensitive areas.
White Fir
Abies alba 15 ml
Regular price: 28.46 €
Member's price: 21.35 €
Footnote:
Essential oils are not medicines, and as a user, I can only advise on the basis of my experience and the experience of others who got help with any problems with essential oils. I do not make any diagnosis or prescribe any medication.
I am not responsible for the possible consequences of improper use.
The rule is: Less is more!