---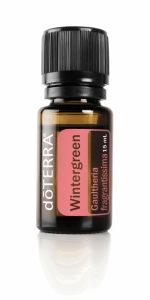 Part of the plant: Leaf
Method of production: Steam distillation
Description of the smell: sweet, minty, refreshing
PRIMARY EFFECTS
- It is great for a soothing massage after a workout,
- It has a refreshing aroma that stimulates and stimulates,
- It is often used for flavouring in chewing gum, candies and toothpaste
PRODUCT DESCRIPTION
The essential oil of Wintergreen is obtained from the leaves of a creeping plant that grows where the conifers grow. The main chemical ingredient of green, methyl salicylate, is used in creams and massage blends as it works soothing. Greenland and birch are the only plants in the world that contain natural methyl salicylate. Small amounts of greenery are used for aroma in sweets, toothpaste and chewing gum. Zelenka has a refreshing aroma that stimulates and stimulates.DoTERRIN is a new source of greenery in Nepal (DOTERRA's Co-Impact Sourcing), where it is picked up by inhabitants of the villages (wild growing) and then distilled in rural distilleries. This represents an increased economic opportunity for the remote regions of rural Nepal.
USE
Wintergreen will warm us if it is applied to the skin and is excellent for use in soothing massages.
It is smaller, therefore, it is used moderately and it is diluted with fractionated coconut oil, including the possibility of skin sensitization.
For a soothing bath, add 1 - 2 drops of greenery to warm water.
INSTRUCTIONS FOR USE
Aromatic: Add 3-4 drops of essential oil to your chosen diffuser
Apply to the skin: dilute 1-2 drops for possible skin sensitization with Fractional coconut oil doTERRA and apply to the desired area
Warnings:
Possible skin sensitivity. Keep out of the reach of children. If you are pregnant, breastfeeding or if you are under the care of a doctor, contact your doctor. Avoid contact with the eyes, inside the ear and sensitive areas.
Wintergreen
Gaultheria fragrantissima 15 ml
Regular price: 37,42 €
Member's price: 28,06 €
Footnote:
Essential oils are not medicines, and as a user, I can only advise on the basis of my experience and the experience of others who got help with any problems with essential oils. I do not make any diagnosis or prescribe any medication.
I am not responsible for the possible consequences of improper use.
The rule is: Less is more!